In March 2014 I wrote a blog posting about updating my LG Navigation system used in the leasing car I'm driving, a Hyundai i40 Stationwagon. This navigation system is used in a variety of models from the Korean brands Kia and Hyundai. A few days ago these brands have released a new software version for this system, version 7.5.8. As usual no changelog was provided, so it is up to the community to discover the differences. In this posting I'll bring in my discoveries.
Changelog 7.4.5 to 7.5.8
– Bluetooth version upgraded from version 3.1.5 to 3.2.0
– Firmware upgraded from version 5.6.2 to 5.6.6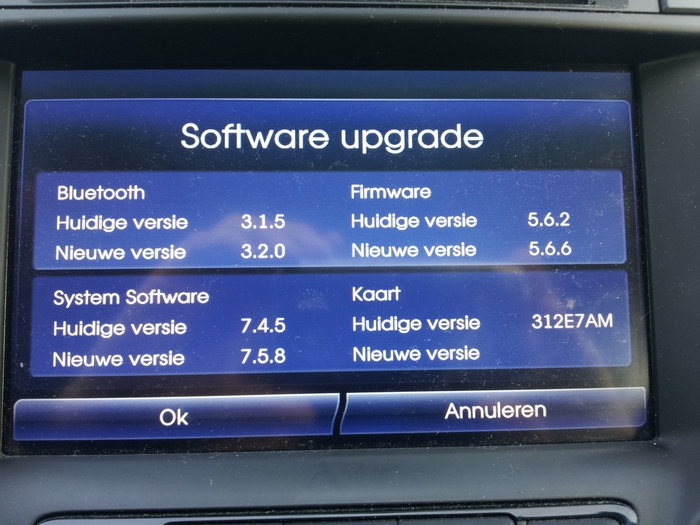 With the highering of minor release version from 7.4 to 7.5 I was expecting a bit more fireworks, but it looks like it is mostly bugfixes, adding bluetooth compatibility, etc.
If someone do find a new feature or trick, please let me know via a comment to this posting.
MapCare mode
In version 7.4.5 I discovered in the secret dealer mode menu a new feature called MapCar Mode. In the comments of that posting people were questioning whether this would be a workaround to get free updates from Kia or Hyundai. This answer is still not answered (and my leasing company is paying the updates anyway), but I did see something additional after upgrading from 7.4.5 to 7.5.8.
This was the screen of MapCar mode previously:
This is the same screen after applying version 7.5.8: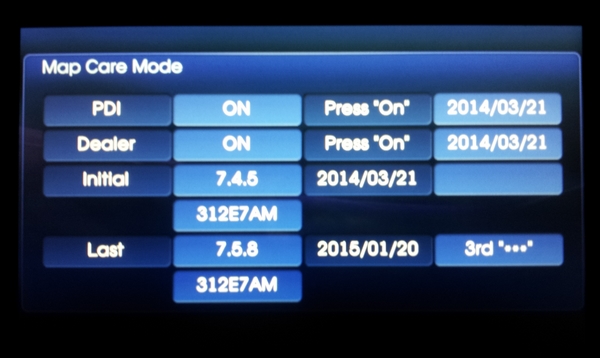 The tricky part is the change from 2nd "**" to 3rd "***". This might indicate the amount of (MapCare) updates installed. Since version 7.5.4 I haven't had any map update. I visited the dealer after upgrading to 7.5.4 and he was indicating that there was no update for my system available. He was a bit surprised about it.
This morning I was calling the dealer again for the map update. He will receive the single USB to update all nav systems from his customers end of January. I'm a bit doubtful now whether or not this new update will upgrade map version 312E7AM to a newer level.
Changes between version 6.1.6 and 7.5.8
In the dealer mode screens the last tab is called System and it is containing all kinds of version information for the components used in the system. Previously I didn't pay attention to this version information. In my video about enabling the test mode I was able to extract a frame with the version information of version 6.1.6: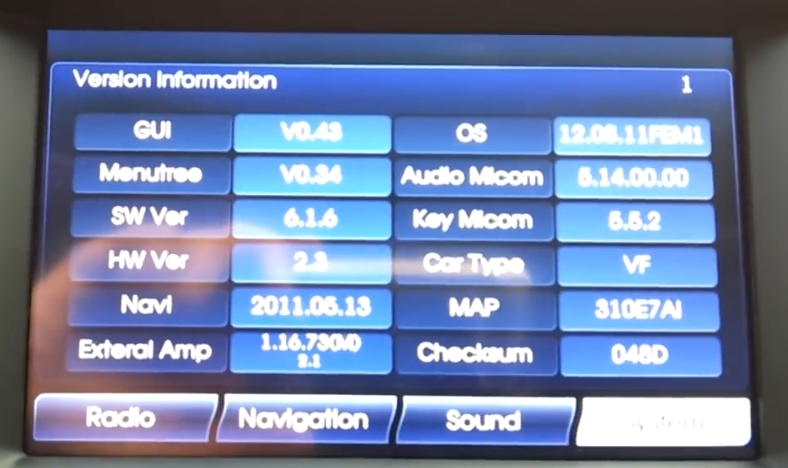 The same screen in version 7.5.8 looks like this: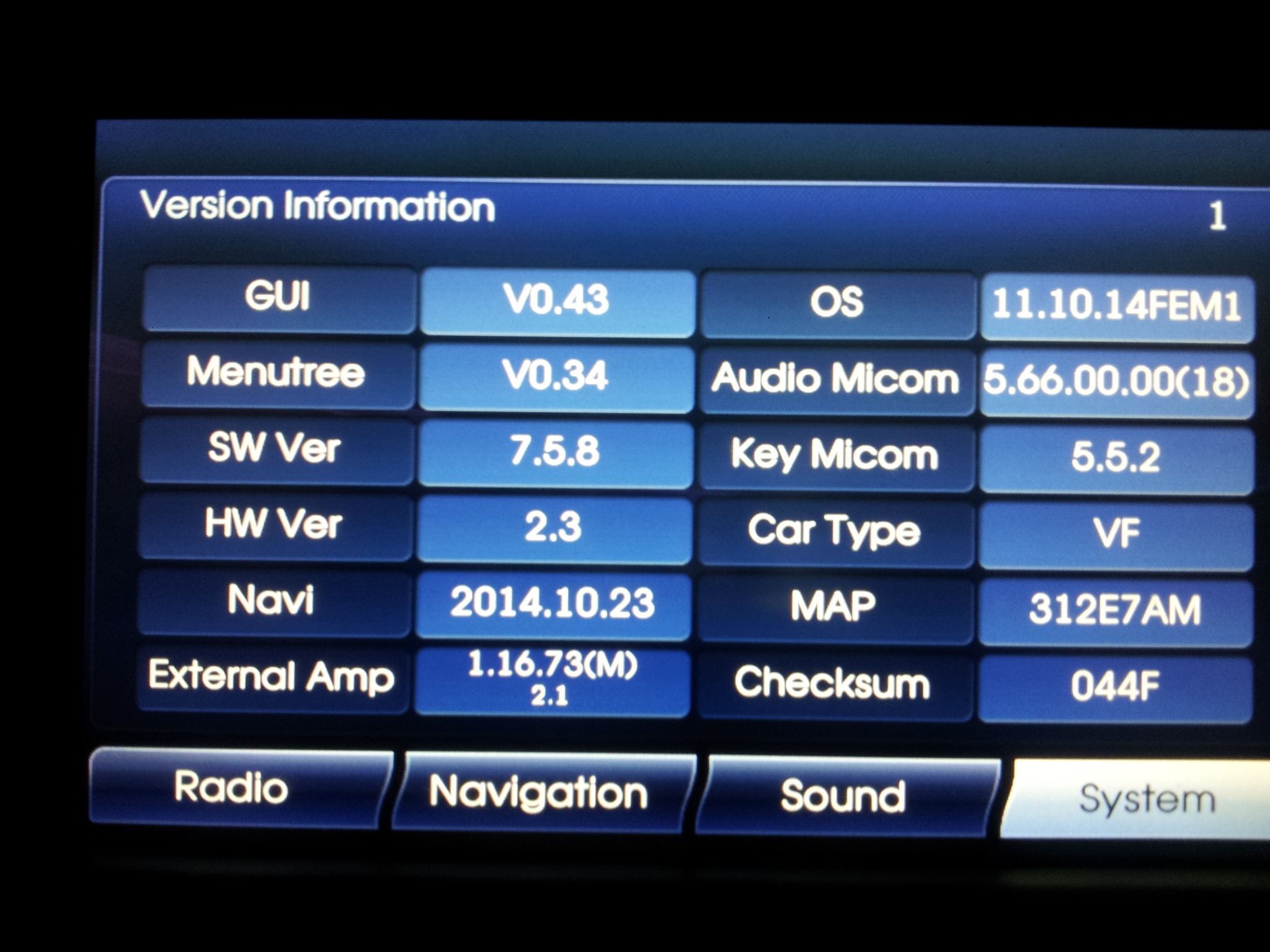 Items like GUI, Menutree and External amp aren't updated. OS version is updated from 12.08.11FEM1 to 11.10.14FEM1 (I was first thinking of a downgrade, but version number is a date). Audio Micom has been updated from 5.1.4.00.00 to 5.66.00.00(18).
The item Car Type is also interesting. In my case VF is mentioned. This is the modelcode for i40. What do other owners have stated here?
Code 253216
The most interesting code to enter is 123456. This enables the test mode screens. There is however another working code: 253216. The following screen called Service Center Mode will be displayed: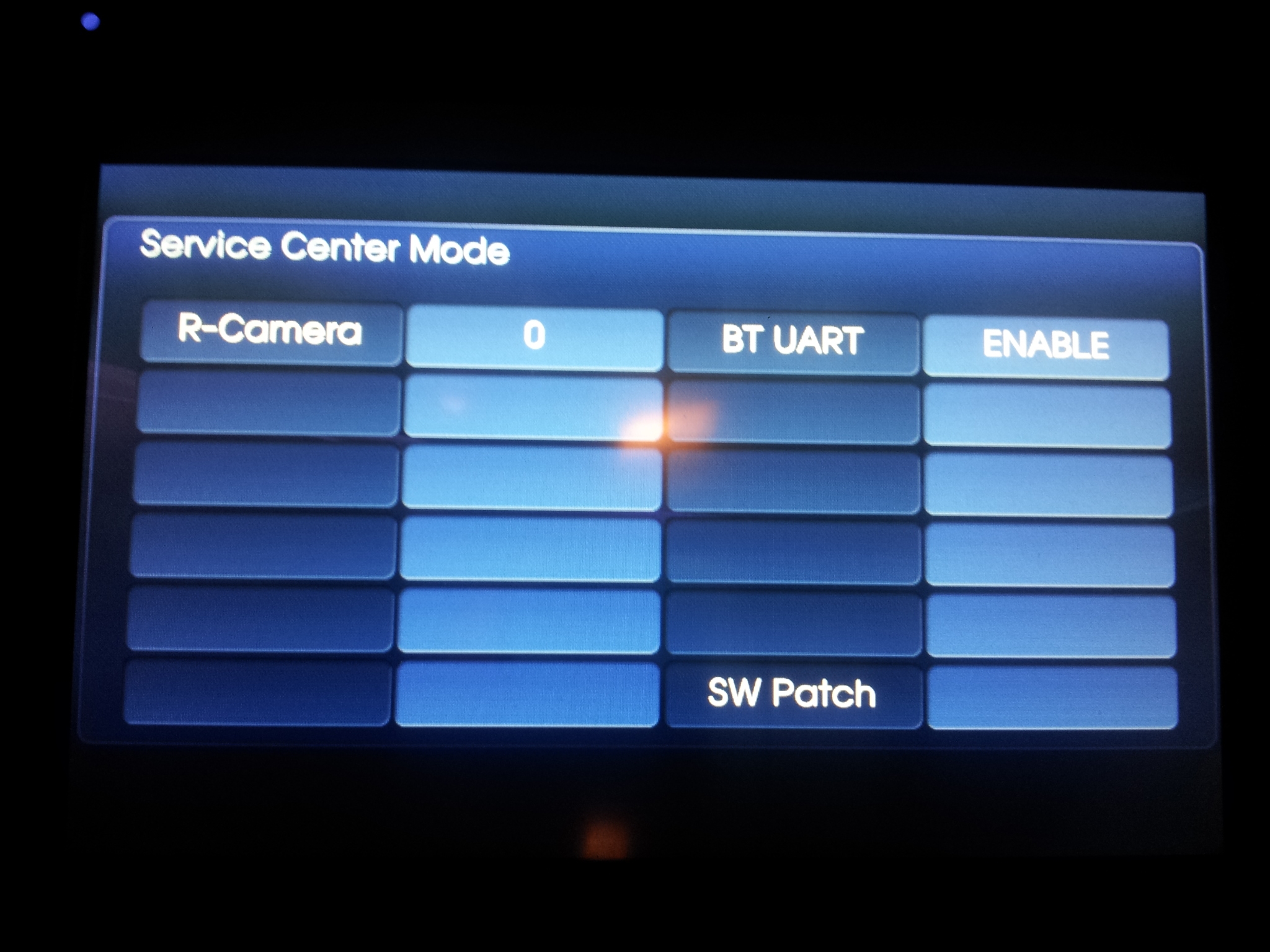 In my case this displays that my car is fitted with a rear camera system and a Bluetooth connection module.