This blog had in 2016 the worldwide scoop of announcing P100D version of Model S. Ever since I keep an eye on the release of new European type approvals for more manufacturers and OEMs building BEV-vehicles in particular. In a recent update of type approval data distributed by RDW an indication of getting two new Tesla models type approved for EU market has been found.
European type approval
To release a vehicle on the European roads a manufacturer needs to get an European type approval for the whole vehicle. This is also abbreviated as WVTA which stands for Whole Vehicle Type Approval). This approval can be arranged via any authorized registration authority in an EU member state. After registering these approvals the data will be shared across the European vehicle registration authorities. RDW in The Netherlands is one of them and somewhat special.
The specialty comes to way this organization publishes the data around these approval sets. In almost all cases this data is not published to the public. Only Nortype (cooperation between Iceland, Norway, Sweden and Finland) is publishing a list of recent issued WVTA tracker for M1 category. This category is meant for passenger cars.
RDW open data
The Dutch registration authority RDW is publishing majority of the type approval data as open data. This data is free to download in several datasets via https://opendata.rdw.nl . Next to datasets like complete Dutch licenseplate registration, recalls, datasets for all RDW authorized dealers or all parking places in The Netherlands the type approval data consists of 14 different datasets. These datasets are linked to each other with combination of keys like EU Type approval number, EU variant or EU type.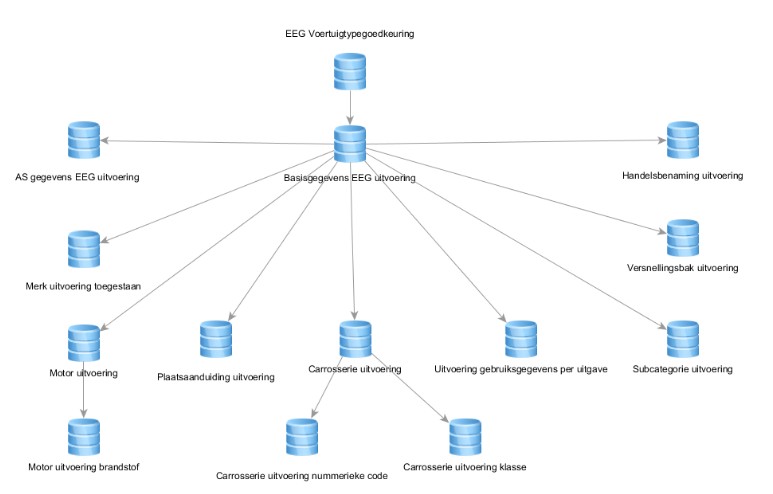 Indication of two new Tesla models
The main dataset is EEG Voertuigtypegoedkeuring. This dataset contains the high level information of any EU type approval number, like:
Manufacturer (In dataset in field fabrikant)
Complete Type approval number (typegoedkeuringsnummer)
Registration date (europese_typegoedkeurings_registratie_datum)
Date of latest status change (europese_typegoedkeuring_status_datum)
Status of registration (europese_typegoedkeuring_status)
Type (type_fabrikantcode)
Vehicle category (eeg_ece_voertuig_categorie_bij_type)
When watching the list of newly created European type approvals (ending with extension *00) in this dataset I noticed some new entries for Chinese manufacturers coming to Europe and other interesting new ones:
| | | | |
| --- | --- | --- | --- |
| Manufacturer | Type | Type approval number | Remarks |
| CHONGQING JINKANG NEW ENERGY AUTOMOBILE CO.,LTD. | SERES5(S) | e4*18/858*00142*00 | likely Seres 5 |
| BYD AUTO CO., LTD. | SC2E | e9*18/858*11147*00 | |
| BYD AUTO INDUSTRY COMPANY LIMITED | HC | e9*18/858*11304*00 | |
| NIO CO., LTD. | ESW | e9*18/858*11323*00 | |
| NIO CO., LTD. | ETX | e9*18/858*11268*00 | |
| SMART AUTOMOBILE CO., LTD | HX11 | e1*18/858*00227*00 | likely Smart #1 |
| CHINA FAW GROUP CO., LTD. | E115-WVTA | e13*18/858*00350*00 | likely Hongqi E115 SUV |
| DFSK MOTOR CO., LTD. | FENGON500 | e4*18/858*00016*00 | likely engon 500 |
But also the first type approval for the solar powered Sion by SONO MOTORS GMBH (e1*18/858*00271*00).
Next to this new manufacturers entering the European market I discovered also two new type approval numbers for Tesla Inc.:
| | | |
| --- | --- | --- |
| Manufacturer | Type | Type approval number |
| TESLA INC. | 004 | e4*18/858*00086*00 |
| TESLA INC. | 005 | e4*18/858*00135*00 |
The EU type is something that is set/delivered by the manufacturer. Tesla used in the past already 001, 002 and 003:
| | |
| --- | --- |
| Type | Model |
| 001 | Roadster |
| 002 | Model S, later Model X became part of same EU type approval set |
| 003 | Model 3, later Model Y became part of same EU type approval set |
Knowing the past my first hunch would be that 004 and 005 would be related to the already announced new Roadster and/or Cybertruck. Knowing the timelines of announcements to production in the Tesla world this would be strange however.
The answer for this quest could be found by waiting some weeks and months. As part of the whole type approval setup likely the other datasets within the RDW open data would release at some moment in time more details. For example, the dataset Handelsbenaming Uitvoering contains the possible model description for registration purposes, like MODEL 3 or MODEL Y.
However the already mentioned Nortype WVTA tracker gives the answer already much sooner.

Apparently the homologation experts on Tesla side have decided to split the combined Model S/Model X and Model 3/Model Y type approval structure by arranging own type approval numbers for Model X and Model Y.
Likely this discovery in RDW open data doesn't end up on tens of other sites like the previous scoop, but nevertheless a nice discovery anyhow.
New kenteken.tv tool
On Kenteken.tv various data tools around Dutch licenseplate data are created. A brand new tool is M1 WVTA tracker. This new tool showcases the last 250 registered type approvals for passenger cars (M1 vehicle category) according to RDW open data.
https://www.kenteken.tv/viz-m1-wvtatracker.php